Alisa Horn, Cello
Alisa Horn enjoys performing and teaching a wide variety of musical genres from classical to jazz to rock and beyond. Alisa completed her Suzuki Cello Teacher Training at the School for Strings, NY with Pam Devenport, Barbara Wampner, and Gilda Barston. As a Suzuki kid herself, Alisa's second language is the cello and she is excited to share that language and her love for music with others. Alisa believes that music education produces, as Dr. Suzuki once said, "a beautiful heart."
A native of Memphis, Tennessee, Alisa studied with Professor Peter Spurbeck at the University of Memphis and was a member of the Memphis Youth Symphony. Alisa received her Bachelor of Music in Cello Performance from the University of Michigan where she studied with Anthony Elliott and her Master of Music in Cello Performance from Northwestern University studying with Hans Jorgen Jensen.
Alisa has performed as soloist with several orchestras performing pieces by Bloch, Dvorak, Elgar, and Miaskovsky. She has attended many summer music festivals and was a member of the Civic Orchestra of Chicago, the training orchestra of the Chicago Symphony.
Along with jazz legends Marvin Stamm and Bill Mays, Alisa is a member of The Inventions Trio which performs a fusion of jazz and classical repertoire. The Trio has toured extensively in North America and has released three albums including diverse works from Miles Davis to Sergei Rachmaninoff.
On Broadway, Alisa has played in many shows including the 2017 revival of Sunday in the Park with George, An American in Paris, If/Then, Dogfight, Little Miss Sunshine, Carrie, and Next to Normal. Alisa has performed and recorded with many singers and bands including John Legend, Rod Stewart, Devotchka, The Roots, and Phish.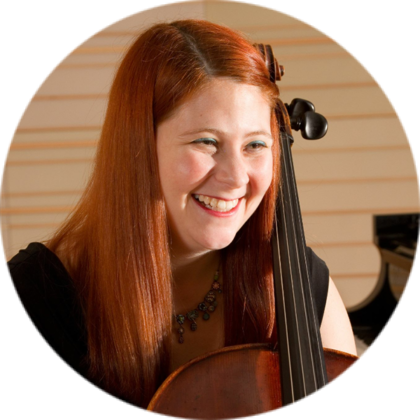 SAA Registered Training:
Every Child Can!
Cello Unit 1
Cello Unit 2
Cello Unit 3
Cello Unit 4
Cello Unit 5
Cello Unit 6
Cello Unit 7
Cello Unit 8